Island hopping is the most effective method of skipping island fever during a vacation. You spend a day or two on an island and before you start itching with fever from being in the same place too long, you hop on a boat and go to the next island.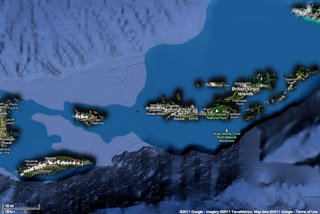 Yes, you can do it via plane too, but let's face it… this is FloatWays (and most planes don't float). Island hopping around the Caribbean is likely the ultimate getaway vacation for those who love boats and get bored quickly. Short attention span? Jump on a boat and head over to the next chunk of land with palm trees and piña colada.

With most Caribbean islands being within easy reach of each other, the passage between each island becomes nothing more than a small channel. When compared to Hawaiian island hopping, doing the leaps in the Caribbean is a whole lot easier. For the most part, the seas are less treacherous and the channels smaller. For the experienced sailor or cruiser, chart plotting around the reefs and shoals is no problem. If you need a guide or a captain that knows the area, there are plenty available for reasonable fees. There are plenty of people that know the islands and every nook and cranny around them. Just make sure you have a big enough boat or say bye to privacy on-board. In any case just hire a big-enough boat with a captain. That will likely make the experience easier and safer. It would be like hiring your own personal little cruise-ship.
If you have the experience, the license and the money, chartering a boat to put yourself at the helm is an excellent alternative. If you pay attention to the weather and have a good GPS and chart-plotting equipment aboard, finding your way around the islands is not a problem at all. If you have a chartering license, you probably now a thing or two about finding your way around on a yacht. It's the other guys that need the most instruction.
One company I dealt with a few years ago was Virgin Traders. We stayed in one of their Horizon 56 yachts in Nanny Cay Marina, Tortola, BVI. The next day I was teaching a group of British guys how to kiteboard. The night in Tortola was quite pleasant. I vaguely recall, but we watched a big rugby game between Australia and New Zealand on a big screen at the marina's clubhouse that night. After a long night, the following morning at dawn, we set out to make the pass Northeast towards Anegada.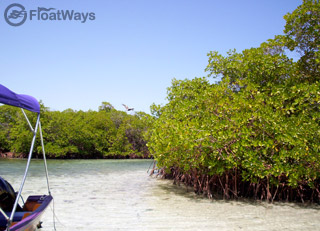 As I mentioned earlier, many of the islands to the East and Southeast of Puerto Rico are actually really close to each other. One of the largest channels is the one between Puerto Rico and Culebra, with only a couple of little cays in between. The passage to Culebra averages 2-3 hours in a powerboat in moderate seas. However, I've done the passage in a little over an hour, hauling ass in a 16-footer powerboat in lake-like conditions. I've also done it in roughly 12-foot seas in a boat twice as big, and pulling 4 hours or more is not surprising. Your island hopping strategy should take into account the weather, the length of the passages and the intended time you will stay at each destination.
The next big channel, the one between Culebra and St. Thomas (USVI), is roughly the same distance as the one between PR and Culebra. That's about 15 nautical miles, or 17.26 regular miles (we don't like cocky, know-it-all sailors here) from the tiny island of Culebrita (East of Culebra) to the small channels in between the main ports in St. Thomas. On other words, way past the main tip of the island and well into somewhat protected waters. Download Google Earth and find 18°19'33.88″N / 64°57'14.83″W for a relative idea of where I'm talking about.
The cool thing is that once you're in St. Thomas, you have a number of American and British Virgin Islands all within close proximity to each other. St. John is only a step away from St. Thomas. Right after St. John, you step into British waters and find Tortola and Virgin Gorda (BVI). There are a bunch of little islands in between; places like Peter Island and Cooper Island south of Tortola and famous Jost Van Dyke North of St. John. This reminds me, my first and only visit to Jost Van Dyke I did in a little Regal Ambassador 24. Proves you can hop the islands in small boats so long as you pay attention to the weather conditions.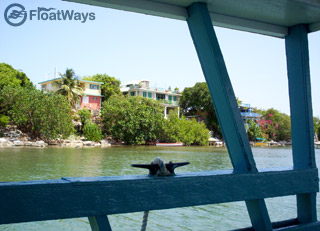 The longest island passes in this area are from Tortola or Virgin Gorda to Anegada. This is the one pass we mentioned earlier that we did in the Virgin Traders yacht. The crossing from Tortola to Anegada is comparable in distance and time to those between Puerto Rico and Culebra, or Culebra and St. Thomas. Be aware of that and plan accordingly. While the short island hops can easily be done on a whim, those longer passes should be planned for accordingly as rough weather can make them much longer than they really should be. If the seas are rough, it's better to wait it out and stay within the smaller channels until the seas are more apt for crossing. For powerboats, setting out on hops at dawn, before the wind starts blowing is an excellent idea. Of course, if you have a big boat or a sailboat that handles roughs seas and high winds with ease, you might not have a problem at all. In fact, it might be your ideal conditions. Most of the rough seas are often caused by wind swell rather than stormy groundswell. These conditions suit some boats and experienced sailors just fine.
Talking about longer crossings, the hop between the Northern US Virgin Islands (USVI) and St. Croix to the South becomes a little bit more of a leap. Like St. Thomas and St. John, St. Croix is also a US territory. However, it sits a little further South making the crossing a bit longer than simply going East to the BVIs.
Don't get cocky. Be sure you know what you're doing or get a captain to take you across.
Nonetheless, St. Croix is still relatively close. In fact, once you venture all the way up to Anegada or South to St. Croix, you have pretty much crossed all the small channels that connect all the way from Puerto Rico. After that, it all gets a bit hairy. The next crossing to Anguila or St. Maarten is considerably longer than any of the other island hops from Puerto Rico. All the major islands past here are somewhat more spread apart than the USVIs and BVIs. Don't get cocky. Be sure you know what you're doing or get a captain to take you across. Yes, I know that people do longer, more treacherous passes in the Pacific, to Hawaii and Tahiti. But that's not the point. There are sailors that make that sort of thing look easy. It is not. Crossings in the Caribbean during the non-hurricane seasons may be easier than crossing the Pacific to get to Hawaii, but it's still serious business and not to be taken lightly. Some common sense, knowledge of the area and sea-experience goes a long way. The fact is, just hopping between the little cays close to the main islands is plenty of excitement and adventure. Only after you get bored of doing that should you aim for the longer passages.
If you are adventurous and experienced, making these voyages in your own sailboat or yacht, or on a chartered vessel is the ultimate Caribbean sailing experience. But hiring a boat with a Captain, or even catching one of the many inter-island ferries is still a legit and ultra-fun way to experience the joys of island hopping the Caribbean.