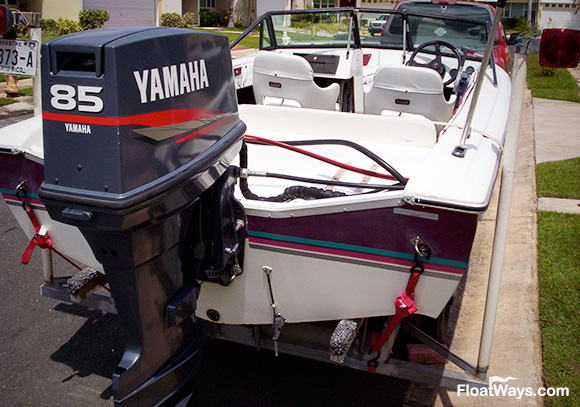 In this world full of ambition we get pounded every day with "Bigger is Better." But is it really? It's almost like society sets you up so that if you can't afford the biggest or most expensive of things, you haven't made it; you haven't succeeded. But the truth is, you succeed if you fulfill your needs, not if you please the bystander. This situation is absolutely the case in point when it comes to the age-old rivalry of small boat vs. big boat. Now, I know that both small and big are very general and ambiguous terms. But while you read this article, simply envision what a small boat or a big boat means to you. That's the best way of seeing it in order to find out how the pros and cons (which both have plenty) affect you.
Small boats vs. big boats
Like I implied above, "small boat" is a very broad term. For many, this can mean anything from a small aluminum fishing boat, to a jet ski to a 21-foot runabout. It really all depends on what you want to do with it. On the other hand, for someone who feels comfortable towing the 21-foot runabout to different lakes every weekend, a similar 25-foot boat might be breaking point of too big. This person might be convinced by his peers to sell the 21-footer and buy the 25 claiming better comforts, speed and luxury. While this might be true in some cases, what ends up happening most of the time is the owner ends up with much more work than fun. The new 25-footer ends up costing more to buy AND run, towing it becomes a hassle, it's too big for many of the lakes he used to go to, insurance is more, etc, etc. Many people fail to see these things and get caught up in the flow and the pressure of trying to improve. But if you are having fun on the 21-footer, why try to "improve" upon that? Small boats use a small boat trailer and they run on small boat motors! All this equals smaller costs, less maintenance time and increased fun.
Small vs big based on experience
Here's an example. This one comes straight from my experience: I grew up on a 1976 Chris Craft 21 foot cuddy cabin. Don't ask me what model, because all I remember is it was yellow and had 2 Johnson 50HP outboards and a cuddy cabin with a porta-potty. My dad owned that boat for 13 years. During that time, we put hours, upon hours in it. We island hopped around the Caribbean, set up camp in little uninhabited islands, barbecued fresh catch off the rail and just had an amazing time. That boat was one of the best experiences of my life. Soon enough my dad caught the "big boat" bug. He turned to a 24-foot Regal Ambassador, which in fact didn't end up being too big, but the old dual 1981 Volvo Penta engines in it gave us more headache than fun. On the other hand, that's where I learned to rebuild engines!
However, during that time, I had an experience that became the initial idea for this piece I'm writing. My dad, who always wanted to keep me floating, offered to buy my brother and I a small boat when I turned of legal age to drive one. At the time, that age was 14 years old believe it or not. So, he bought a 1989 Chaparral 16XL that if you look hard enough on this site, you might be able to spot in more than one occasion. Just like the old 21-footer Chris Craft, that boat became one of the most cherished experiences in my life. People, my brother and I put so many countless hours on that boat that we eventually fried the Johnson 70HP outboard! I overhauled the entire boat a few years later with new carpet, seats, wiring, and a brand new Yamaha 75HP outboard. Guess what happened then? We put more crazy amount of hours on it!
That boat taught us how to waterski, it island hopped during the day and bravely during the night. We spear-fished off it, carried around an array of bikini-clad girls and it was the vehicle of choice to transport friends and gear for the uninhabited island camping trips! There was one time where my brother and I did 6, 30 minute round trips to bring all our friends from the main island to our camping spot. That ordeal ended close to midnight, with no moon, and us dealing with a couple of tight reef passages. Good times. If my father ever reads this, I hope he understands how much I appreciate that one boat. And friends… the boat was $4,400 when we bought it in 1993-ish. Throughout the nearly 8 years with us we might have spent around $10,000 on it in maintenance including the new engine. Eventually selling it for a great and very fair price. Now try doing that with a 25+ boat!
The case in point has brought us to today. Between those teenage years and now my father went on to upgrade to a 29 foot Sea Ray Sundancer with twin gas in/out engines and eventually to a 37 foot Sundancer with twin Caterpillar diesel dedicated inboards. Now, I'm no one to judge, he loves his 37 foot boat. But, in the essence of this column I'm going to give my opinion based on careful observation: I believe the 29 foot Sea Ray was the ultimate, BEST SIZE for his given situation. Here's why:
The 37 may be bolder and more comfortable inside, but the 29 was more agile and nimble. It could be dry docked using a good old marina finger forklift. The 37 needs to be pulled out of the water with a gianormous Marine Travelift sling hoist (which takes more time, can be done only periodically and costs a crap load more money). The 29 was easily handled and docked by one person. The 37 can also, but it's just so much more work and risk to handle and dock by only one person. Not to mention the maintenance, insurance, docking and overall price of the boat are all MUCH more than with the 29er. But, that's just an opinion and I may be wrong. Only he knows if that is the right boat for him, and only YOU know which is the right boat for you.
Small boat conclusion
I guess what I'm tying to get to with all this is very simple: Don't be fooled into thinking that bigger is always better. Small boats can end up being the absolute, most-satisfying lake, river or marine experience you can have. If you've never had a boat and you are looking to start, do a search for small boats for sale and see what's out there. Try and buy a good well-maintained small craft to start off. You can learn the ropes in one and eventually, with proper experience and research, decided if you want to go a little bigger. It's a lot easier to sell a small boat than trying to sell a big one that you bought by mistake. It's better to crawl before you walk. Either way, if you can afford one, life on a boat is one of the most wonderful experiences any family can have. If you are busy saving for that big boat of your dreams, your family is on dry land and your kids getting older by the minute, stop wasting time. Instead of saving for something that might end up being too big, you can get in the water now on a smaller boat and grant your kids the experiences my dad granted my brother and I. Whether it's a sailboat, fishing boat, ski boat or a good ol' runabout, a small boat can be the exact answer to what you need. Now, it's up to you to decide what's small and what's big.