Small yachts for cruising were a lot more common a few decades ago. Some may disagree, but like most everything else, yachts have been getting bigger and bigger.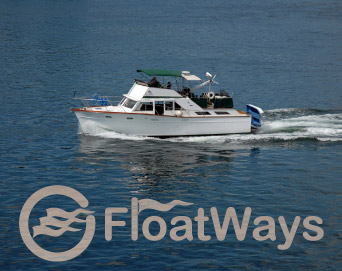 Meals got bigger – and so did the bellies. Cars got bigger – and somewhat shrunk again. The most popular trucks on the market all got bigger too. And what happened to yachts? Well, they got bigger too. Back in the 70's and 80's many popular small yachts would range between 22 to 32 feet, give or take. They were extremely common in both sailing and motoring circles. Nowadays, the demographic of people that buy those types of yachts looks to the 40 feet and up range.

But first of all, what is a yacht?
A yacht is basically a recreational vessel – In other words, something that could be considered a luxury. The term was originally given to sail driven crafts, but now is just as common with motorboats. Some consider that a boat, to be classified as a yacht, should be at least 26 feet in length. But of course there are exceptions. To help define the line a little better, a yacht is better suited for longer distance trips in relative comfort, were a cabin cruiser or small sailboat is better suited for short trips and small stints aboard.
When someone refers to a small yacht, the person is generally referring to a cruising boat, sail or motor powered, that's designed for long passages in some way or another. So in a comparison based on purpose, the small yachts of decades ago can easily compare to larger yachts of today as being destined for the same purposes.
Given that boats that are well taken care of last a lot longer than cars, seeing those old small yachts alive and kicking today is not uncommon. The only difference is that they are not being used for long distance cruising as much as they used to. Don't get me wrong, there are still a lot of sailors that take these small yachts in extended voyages, but these days, the people that are dedicated to long distance cruising and can afford it, go for considerably larger yachts. It's more common now to have people cruise in 40 foot plus yachts than the 30 foot ones that were more common before.
Looking specifically at small motor yachts…
…most boats under 30 feet today are not really suited for long distance traveling. In other words, they don't make them like they used to.
Small motor yachts from back in the day have all grown in size too. A lot of the design cues present in some of small yachts around 30 feet are much more common now in yachts 40 feet and bigger. For example, think about a Bertram 30. A 1986 Bertram 30 had all the design cues of large yacht, in a relatively compact size. Things like a flying bridge, dedicated inboard engines and large fishing outriggers – all cues that are now much more common in larger boats. Given those design aspects are nowadays more common to larger boats, most of these small yachts where overbuilt, strong and reliable. For that reason they were able to take on heavy weather and were considered safe enough. These days, even though technology has taken a huge step forward, most sailors can agree that most boats under 30 feet today are not really suited for long distance traveling. In other words, they don't make them like they used to.
Other interesting mentions are:
Cape Dory 28 Flybridge Trawler
1975 Chris Craft Tournament Sportfish 30
Blackfin 32 Flybridge from the late 80's
1985 Tiara 3011 Open
All fine examples of the bread and butter of small yachts from the 70's and 80's.
Sail powered small yachts
For sail-powered small yachts there are even more options. Small sailing yachts tend to favor the long distance cruiser more given there are plenty of designs specifically made for cruising that outright outperform small motor yachts of the same size. One good example would be the Pacific Seacraft Flicka 20 – a sailboat that at only 20 feet at length of deck, is designed to cross oceans. While hardly considered a yacht, the little boat can tackle the job of the giants with ease.
Of course, many consider today's larger yachts to be safer and better. This is probably true, but it doesn't change the fact that many of the older small sailing yachts have been proven hundreds of times.
Some notable mentions are:
Hurley Folkdancer 27
Contessa 26
Pearson Ariel 26
Pacific Searcraft Dana 24
Tartan 30
Nicholson 32
Compass H28
Allegro 33
Alberg 30
As you can see there is no shortage of seaworthy sail-powered small yachts. I could keep listing boats until I'm blue in the face. Sorry if your favorite boat is not there.
At the end of the day, we are back were we started. What used to be luxury ocean-going small yachts a few decades ago, such as the ones mentioned above, have evolved into larger, much more luxurious yachts. Names like Jeanneau, Beneteau, Luhrs, Sabre and many others have all been evolving the term "small yacht" more and more. As the small yachts grow in size, so do the large ones. While the average buyer that used to focus on 30 foot boats is now buying 40 foot, the 50 and up crew is up in the ranks of 80 plus. It doesn't look like we are going to get over the "bigger is better" deal anytime soon.