It's about time we review a pair of Maui Jims! We decided to start with a Maui Jim Lighthouse review. These have HT or High-Transmission, green-tinted lenses. What are they good for? Read on to find out.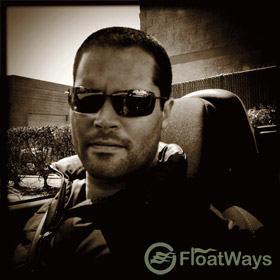 There's a reason we went with the Maui Jim HT lenses for this review. If you've been following our sunglasses guide you might have noticed we are Oakley fans around here. But of course we can't stick with just Oakleys if we want to offer a good, well-rounded view of what's out there. Oakley has Bronze and Smoke lenses readily available for their lifestyle line, but no green tints – at least not on most models. So naturally, we wanted to try something different. Additionally, we've been looking to experiment with higher light transmission lenses for situations like sunrise, sunset or cloudy days.
Another reason we chose Maui Jim is we keep hearing all these comments about how incredible their optical quality is. How much better they are than other brands, yada, yada. Of course, the best comments are for the SuperThin (ST) Glass lens ones, or the Maui Evolution lens models and we ended up going with the Lighthouse model, which is none of those things. These have the standard polycarbonate lenses – which by the way, are also polarized.
Danny has been using the Lighthouse for over 2 months now. This should allow for very good insight as to what these sunglasses are all about. Read on to find out his take on the very first Maui Jims on FloatWays.
Looking closer
Most of the sunglasses reviews we do are boat-themed. Meaning, we usually try and review sunglasses as to how good they are for sailing, fishing, or just regular boating. Well, let's just say the Maui Jim Lighthouse sunglasses are probably not the best option for active sailing or boating. They seem extremely delicate and lightweight. This is a good thing, unless you are actively running around trimming sails and ducking to clear lifelines for extreme hiking on an upwind leg. In which case, you will most likely break them.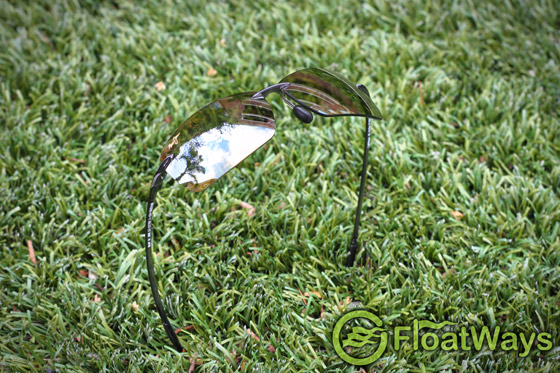 The temples on the Maui Jim Lighthouse sunglasses are incredibly thin and everything is held together by the lenses – there is no frame! The nose pieces protrude from the centerpiece that holds the two lenses together by means of little plastic stems. They are covered at the end by a neat little rubber bit on each side of the nose-piece. The temples themselves feature a little rubber insert in the section that fits right after your ears – This to aid in keeping the sunglasses from slipping off. The entire thing only weighs a mere 13.9 grams!
However, before you go and think this is all a bad thing, no it is not! In fact, this is all good! It's all about using them for their intended purpose. Some of us may be hardcore sailors and active fishermen that see very little relaxing time while on a boat. However, we still spend plenty of time in the sun in less active situations. Apart from that, unless you live on a boat in the middle of the ocean 24/7, we actually spent a whole lot more time on solid ground that we do sailing. So, that's when the Maui Jim Lighthouse come into play!
These polarized sunglasses are perfect for boaters and sailors, but not when they are sailing. With their high-transmission lenses (HT), they are meant for walking the dog in the mornings or at dusk. They are excellent for driving – again at dusk, dawn or during somewhat overcast days. The Maui Jim Lighthouse sunglasses are so incredibly light and comfortable that you will quickly forget you are wearing them. This means they are the perfect pair of sunglasses for wearing during long periods of time. While other bigger and heavier shades will end up giving you a headache after a few hours, you could probably wear these even longer with no discomfort whatsoever.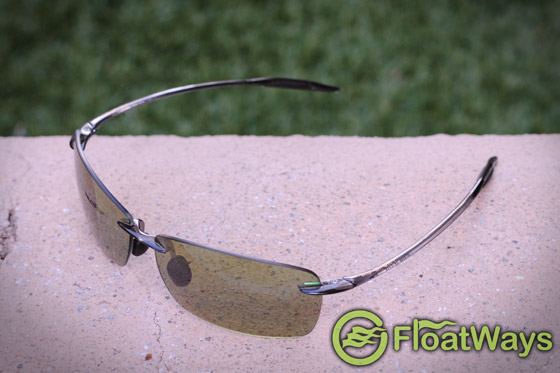 If you are a leisurely boater, don't let me say you should not use them while on the water. As long as you are careful and your activities are not too intense, you should be fine. Just be careful. In my case, I have other sunglasses that are more robust. Those are the ones I take out sailing. I'm sure Maui Jim makes plenty of those. But these are not.
The Maui HT lenses
Given that the Maui Jim HT lenses was one of the big reasons I was so interested in testing these out, I'm putting a lot more emphasis in fully understanding these lenses. Maui Jim, doesn't really say what percentage of light transmission the Maui HT lenses are, but it's quite obvious they are lighter than most. My guess however, is that they must be between 18%-25% light transmission, give or take. When you think about that and compare it to most dark smoke lenses for bright light, which are rated at around 10% light transmission. This means they are quite light and let lot of light through. If you are the type that requires sunglasses to be super dark, these are not for you. But if you like having the option of a good pair of sunglasses for low light situations, these are amazing. In fact, I found myself carrying around 2 pairs of sunglasses in order to be ready for any situation. I would have a pair of the Oakley Plaintiff reviewed earlier and use that during the peak of the day, then switch to the Maui Jims HT when the light lessened. I thought this was awesome because it allowed me to optimize my view of the world depending on the light conditions. I'm a fan of sunglasses, so if I can find an excuse to use them I will.
Down here in SoCal we get lots of bright sunny days. But during the May Grays and June Gloom, you can use the Maui Jim Lighthouse with Maui HT lenses to brighten up your mood.
I found these great for driving in the rain. In fact, I would look forward to rainy days to take these out. Sometimes, the sun peaks out between showers and that glare off the wet road can easily blind you even if it's cloudy. However, these lenses are polarized. The combination of polarization with high light transmission makes them ideal for situations like this. They let enough light through to allow their effective use in overcast conditions, but the polarization cuts glare from the wet roads. If you use them to relax on the boat during morning light or when the sun starts to set, you get the same benefits – cut glare and optimize clarity in low light.
These might be high transmission lenses that are not optimum for super bight light, but that doesn't mean you can't use them at noon, when the sun is scorching hot. There are plenty of people that love the bright light even if it's not very good for them. Many of these folks don't even like using sunglasses. Well, these might be perfect for you. They protect your eyes, yet let lots of bright light in. I'd say that's perfect for those that hate dark sunglasses.
Are the green lenses contrast lenses?
I wouldn't consider the Maui Jim HT lenses contrast lenses, but they are definitely not fully neutral. The green tint is evident, but it's not too dramatic. You sort of notice it when you first put them on, but your eyes very quickly adapt and everything looks perfectly normal. This is very different than the typical bronze or yellow-ish contrast lenses that offer much more dramatic contrast, but also screw with the colors quite a bit more. Another perk to the green Maui HT lenses is that they will not tire your eyes like some extreme contrast lenses do. This allows you to use them for extended periods of time with little to no fatigue. Some of the more dramatic contrast lenses are only meant to be worn for relatively short periods of time, otherwise they fatigued your eyes too much.
So they're good then?
In one word, yes! Definitely not cheap at $159.00 – But totally worth the price tag.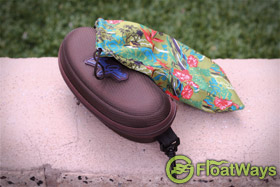 One final note about the Maui Jim High Transmission Lens on the Lighthouse sunglasses model is that it's very popular with golfers. Now, I don't play golf. I sail boats and drive cars. Not sure if it has something to do with the green tint, or the fact that you can see more than you can with darker lenses, but yeah, they're popular golfing sunglasses. I know a lot of you play golf too, so this might be quite interesting to you.
Sometimes, when we are done reviewing a pair of sunglasses we'll get rid of them to make way for new ones. Well, I'm keeping these! I have lots of sunglasses, but I'm pretty much in love with these. The combination of the HT lens that allows me to wear them in low light situations, and the fact that they are so incredibly comfortable and lightweight won me over. It's not a pair of sunglasses I use all the time. It's also not the pair I take out sailing. But for all other situations, these are perfect.
Where to buy: Of course you are wondering where it would be best to buy them! Making your life easier is key. For that reason, below is a link to buy them from Amazon:
Watch out for the lens color – They come in Maui Rose, Neutral Gray, HCL Bronze and Maui HT (the one here) — Lens color seems to vary depending on availability. Once you go to the sales page via the link, if these are not the color you want, search around as they likely have them in another listing.