Given the amazing sunny weather and the low chances of rain every day it's hard to imagine a better place to host a boat show than San Diego.
Thanks to the great weather and the vast quantity passionate sailors and boaters in SoCal, the company that hosts the San Diego Yacht and Boat Show during the summer really has it good.
The huge backing by many boat and yacht companies, brokers, and boating enthusiasts make for a very successful show. As long as you are able to find a bottle of water often enough before you succumb to the heat, you are guaranteed a great time. If a good time is only second on your list and buying a yacht is first, then you are at the right place!
I came down for the show on Saturday morning, camera in hand ready to shoot and write for FloatWays.com on every thing I saw. The setup was well organized and thought through. Plenty of parking a minute away from the venue and a great crew of staff made the initial impression a very good one. The land section of the show was good and varied. There was everything from trailerable small sailboats, to parts, sunglasses, services and food. Most people go straight to the docks, but I enjoyed checking out the booths up top for a while before heading down the gangway to see the main attractions.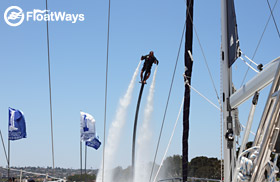 Show stolen
Now, the show's obviously about boats but I have to take quick detour and mention the guys who stole the show. They did it not with a boat, but with a water jet pack contraption that allows a person to levitate high over the water. They call it Jet Lev. It pretty much had everyone's attention. You could clearly hear the crowd's oohs and ahs and plenty of wows when the guy with a water jet pack strapped to his back would take off flying from the dock. See the photos to check out the Jet Lev in action.
Plus, word has it there is a video out that involves the Jet Lev and comedian Tosh O. You might want to search the web for that. The amazing contraption apparently costs $99,500. If you can't afford that, you can pay $350 for a 3-hour lesson and they will teach you how to do it. Obviously, more like a fun time rather than a lesson about something you will not likely be doing very often. You can check the folks from Jet Lev Southwest here: https://www.jetlevsouthwest.com/.
On to the Boats!
Now, this is more of a water based show given the limited ground areas and the mostly dirt lot. The land-based shows can very well be left to tile or carpet venues. So, floating stuff there was aplenty. No 200 foot super yachts to be found, as frankly, they wouldn't fit. However, there were plenty of absolutely gorgeous 40-80 footers to be had, both motor and sailing yachts – a few considerably bigger than that. Right after coming off the gangway you are greeted by 3 of the most luxurious sailing yachts you can find, Jeanneau Yachts Sun Odyssey. One of these is a 53 footer that's completely stunning.
A little further down you are stunned again – This time by the impressive boats brought by Fraser Yachts. Fraser is known for giant super yachts. The ones here were Sirocco yachts around the 50-80 foot range. They were absolutely impressive. If you can afford one and want to live aboard, go for it! You will likely be just as comfortable in one of those beauties as you would in a house. Even the oven in the kitchen can pretty much be considered a full size unit!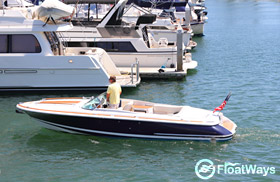 Further down you run into an array of new and used motor boats and sailboats both large and small. Some standouts were Beneteau, Hunter, Sabre and Fairline with a Targa 58. I can also remember one or two big Hatteras and a little, very impressive Chris Craft with a retro flair. After looking it up it seems it was a Chris Craft Corsair (See the pic).
It took 2 full trips around the docks to make sure I didn't miss anything. Plenty of stops done to board boats of particular interest, drink a godsend bottle of water so I would not faint from the oddly intense heat and to take some photos of the pretty Hooter girls who felt like posing for the press cameras from high above the bridge of one of the Fraser Yachts.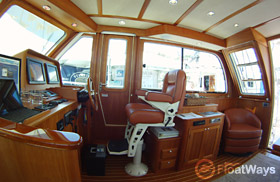 At FloatWays we are somewhat partial to sailboats, but once in a while there is a motor boat that we fully fall in love with. This particular boat would be what we would call the highlight of the show. For us, that boat was the Sabre 40. We've said it so many times since the show ended. We've posted it on the FloatWays Facebook page and we've declared it over Twitter. By now Sabre must have clearly heard us. Yes, we love the Sabre 40. Recently we even had it be our committee boat for one of the San Diego regattas.
Overall, the San Diego Yacht and Boat show was a huge success. We are really looking forward to the new show in 2012. I'd like to thank the organizers of the event for the hospitality. They really organized a great show and were VERY helpful to me to get this story together. Expect a bigger story, with more photos and video from the 2012 show when it happens next summer.