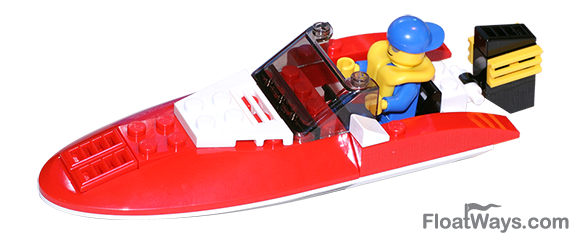 So here's the deal… How many of you boat lovers out there played with LEGO sets as kids? I bet a lot of you did. And being lovers of all things boat we gravitate towards anything that floats. Well, I'm pretty sure it has been a few years since you last played around with a LEGO set. If you have kids however, you've probably been reintroduced to those awesome toys we used to enjoy so much as kids. This was the case in point for me a few weeks ago.
After and entire day at LegoLand California we stopped by the Big LEGO Store near the exit of the park. This is a store designed to systematically take the little money you have left after a full day at LegoLand while you are still pumped and in holiday mode.
And there was the LEGO Boat!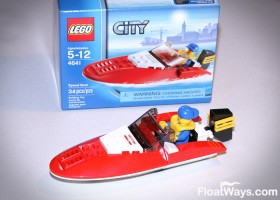 Well, needless to say, I went in with my kid with the intention of looking around and buying nothing. Towards the back of the shop I saw them – the LEGO City Boats and they instantly reminded me of my childhood. I quickly started reminiscing about my LEGO Police boat that I used to add parts and turn it into my own little sport fishermen yacht. The Lego City Fire Boat looked just as exciting. And what's more… They finally came up with a Lego City Speed Boat! Given that as much as I love sailboats I'm also a huge fan of super fast offshore speedboats, this one definitely strikes a chord for me.
I had to get one! I know I said I was buying nothing. I know I'm over thirty. But who the heck cares! I'm getting me a boat!
I had to get one! I know I said I was buying nothing. I know I'm over thirty. But who the heck cares! I'm getting me a boat!
Being an overgrown kid I have responsibilities and zero spare time. So, I decided to grab myself a small set and call it a day. So, instead of the large LEGO City Speed Boat I went with a tiny 32 piece one. This one's even got an outboard motor! Haha. Yes, that's the one you see in the pictures.
My kid and the overgrown kid (me) headed home and at 11pm we started putting together the little kit. Being so small, it took us all of 10 minutes to build. Then I had the bright idea of taking some photos and writing a little article for FloatWays.com about it.
I highly doubt this one will actually float. However, it looks like a boat and looks like it'll float so it definitely belongs on FloatWays. And who knows? One day this one too might become a classic Lego set. The little speedboat now graces my boat and car (yeah, I said car) model collection in my living room.
Why don't you grab yourself a LEGO boat kit too?
If the little boats are not enough for you, check out this video of a huge model of the Titanic made out of Legos: