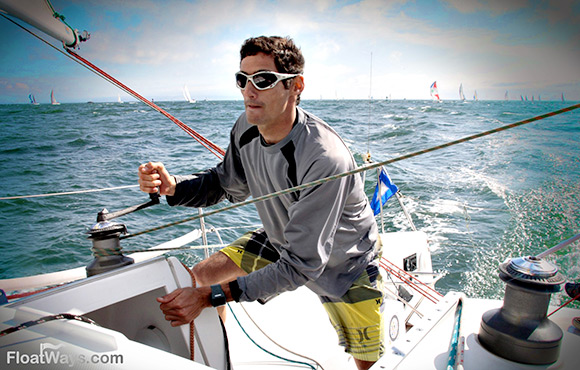 Nobody likes scorched retinas from a constant beat down by the sun and the glare off the waves. That's why you need sailing sunglasses.
To sail you kind of need to be able to see. Looking up at a spinnaker while trimming can be as torturous as staring at the sun itself. Focusing on that top curl of the chute on a bright day feels like putting a magnifying glass in front of your eyes and staring at the sun. Sailing sunglasses are an absolute must for any guy who spends a lot of time on a sailboat. This is especially true on a racing sailboat where function comes first and hiding under a shaded canvas in not an option.

This article is not meant to sell you on glasses that are already marketed as sailing sunglasses. There are plenty of companies out there making sunglasses specifically for sailing and doing a good job of marketing them as such. Unfortunately, many of them are plain ugly or simply don't fit your style. This article is about looking into what a pair of sailing sunglasses should be like. That way, you can look for sunglasses that you actually like, and see if they would be suitable for sailing, boating or fishing instead of having a company tell you what you have to wear. Well, let's remove all the marketing jargon and focus on what a pair of sunglasses must be in order to be ideal for sailing, as well as boating and fishing.
Let's start with the frame.
..on a racing sailboat, chances of having the shades knocked off your face into the water are a bit greater – Unless you are fishing for sea monsters and giant squids from the back of 15 foot Boston Whaler.
First of all, you want a frame that's comfortable and lightweight. You don't want the sunglasses to feel bulky and heavy when you are moving around the deck in all kind of awkward positions that will put a porn star to shame. Heavy sunglasses, like thick metal framed ones that rest on your nose with a small nose-piece on each side tend to want to fall off your face. Lightweight plastic ones that hug your face are a lot better for the job. Yes, you can put a bungee chord or landyard on the stems and hog-tie them around your head so they won't go swimming. But ideally, good sailing sunglasses should fit in such a way that you shouldn't need to superglue them to your face. A proper fitting pair of sailing sunglasses should stay in place no matter how much you're moving around or looking down into the water. I sailed with a pair of Oakley Oil Drum for years and never once did they come off my face. Not while looking down at the keel when hiking off the rail or when scrambling to pull down the spinnaker into the hole. Another recommendation is that you buy a frame with enough wrap to cover most of the gaps around your eyes. The less bare light that can get through, the happier your eyes will be. However, be careful as full wrap sunglasses can sometimes fog when you are sweating. A good point of reference for choosing a proper sunglass frame is to look at fishing sunglasses. The function of fishing sunglasses frames will be very similar to that of sunglasses for sailing. The only difference is that on a racing sailboat, chances of having the shades knocked off your face into the water are a bit greater – Unless you are fishing for sea monsters and giant squids from the back of 15 foot Boston Whaler.
Lenses
Lenses are as personal a choice as your wife's underwear (or your own if you are into that sort of thing). Some people will only touch neutral grey smoke lenses while others feel they are as depressing as death itself. Those guys tend to like contrast lenses that help make the outside world look more exciting than a gloomy day in Ohio. Typically, people that are used to spending lots of time in the sun with no sunglasses at all will likely prefer lighter lenses that don't make everything too dark. These sailors and boaters will tend to like lighter contrast lenses in bronze or gold tints where certain colors are accentuated and life outside of your shades looks bright and happy. People who lean towards lighter tints in bright sunlight tends to go for lenses with light transmissions from 15% to 20% (the larger the light transmission percentage the lighter the tint of the lens and the more light can get in.) People that like darker lenses, whether it be neutral smoke lenses or tinted contrast lenses will choose a lens with close to 10% light transmission. These lenses work really well in extremely bright sunny days but tend to hinder optical performance in cloudy days.
Polarization
One hugely important aspect of marine sunglasses is that they should be polarized. Wearing polarized lenses over water is a big plus as the benefits of polarization are much more dramatic than over any other surface. Polarization basically allows certain light to come through the lens, filtering certain light that's lined-up in a certain polar axis. The type of light that gets filtered out is usually seen as glare by the naked eye or through non-polarized lenses. Light that's reflected off the water and comes at you at a horizontal axis is filtered out. This reduces glare off the water and other reflective objects substantially, allowing you see more clearly and squint less.
Think of it as limited super powers that allow you to see through glaring water but not through a hot girl's bikini.
When you are looking through the water trying to spot kelp on your keel you can actually see through the surface! If you're thinking this is a huge advantage for fishermen, you're right! While wearing polarized fishing sunglasses, fishermen can actually see the fish below the water's surface much more easily. Combine polarization with a contrast lens and you've got X-Ray vision. No, really. Think of it as limited super powers that allow you to see through glaring water but not through a hot girl's bikini. They don't make those yet, sorry. Hugely popular polarized contrast lenses are the Oakley VR28 Black Iridium Polarized lenses and Maui Jim HCL Bronze lenses. The Oakley VR28 polarized lenses add a slight rose tint to what you see, but the contrast and beauty of the outside world in bright light is just amazing. Maui Jim HCL Bronze polarized lenses, like Oakley Bronze Polarized lenses are a bit more neutral than rose tinted lenses but still offer amazing contrast enhancement. The Oakley Bronze Polarized lenses offer quite a bit of light transmission (15%) in comparison with the VR28 Black Iridium Polarized lenses that offer 10% transmission.
While Oakley's Bronze Polarized lenses are extremely popular, for some reason they don't currently offer them with a reflective Iridium coating. The closest would be the Gold Iridium Polarized lenses that are made using a brown base. Are you listening Oakley? Please make a Bronze Polarized lens with Iridium! Otherwise, a good option would be Oakley OO Black Iridium Polarized or the staple workhorse standard Black Iridium Polarized.
Durability
This applies to both the frame and the lenses. While there are plenty of respectable freshwater sailors out there, most of the major regattas are done in the ocean. Plus, even if you are sailing in freshwater, your lenses and frames have to deal with the harshness of your sweat, which is salty and often quite acidic. You want to make sure that you're sporting polarized sailing sunglasses that will resist the elements. Some lenses don't like saltwater and will begin to deteriorate really quickly. This usually starts with the outer coating of the lens pitting and developing tiny dots. If it happens to the inside of your lenses and not the outside, you know the problem is your sweat and not necessarily saltwater. If it happens to both sides, you definitely have a problem. Some sunglass companies like Costa del Mar claim their lenses are designed and manufactured to be resistant to saltwater. Obviously, their sunglasses are good and they are often marketed as boating specific glasses (specially if you are Kenny Chesney). But if you are going to try and use good sunglasses that are not marketed for ocean use, make sure and find out if the saltwater will kill them or not. You don't have to buy them and try out for yourself. There is likely someone that has done that already. Search around the web in sailing, fishing and eyewear forums for eyewear reviews pertaining to boaters, sailors and fishermen. There is always someone that has been a guinea pig for your own benefit. You just have to find them!
One last note on lens coatings.
Some boating specific sunglasses will come from factory with a hydrophobic coating on the lens. This coating helps water sheet off the lens and aids to keep oils, grime and saltwater from sticking to the it. With this coating, lens clean easier too and therefore helps to prevent scratches. However, if the sunglasses you are buying don't have this coating, you can usually buy the stuff in a bottle and apply it yourself. Just make sure that you find out if the hydrophobic solution you're buying is compatible with your lenses. Some aren't.