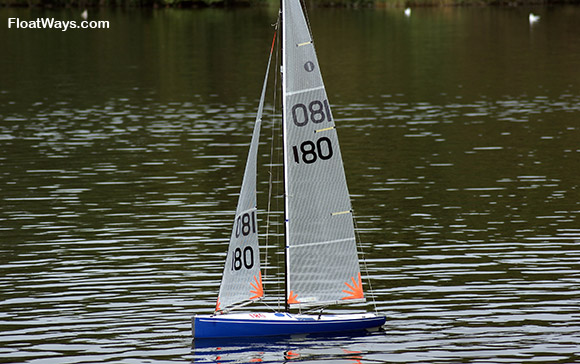 Photo by: Andy Cardiff
RC Sailboats
The one hobby that seems to be enjoyed by both kids and grownups is radio control… umm… toys, for lack of a better word! For us sailors, the ultimate RC vehicles are radio controlled sailboats or better known as RC sailboats kits. These magnificent objects can serve a number of purposes. Not only are they fun, they can be almost as beautiful as the real thing. A true hobbyist can build one to the exact scale of a real live sailboat and then enter it into an RC regatta! Now, how cool is that? Another purpose would be for sailor who either can't afford a full-size boat or just doesn't feel like dealing with all the maintenance time required for the real boat. Maybe the sailor wants to buy a bigger boat later on. In the meantime, he can enjoy sailboat racing with his beautiful handcrafted RC model! You don't even have to worry about recruiting a capable crew! If you ask me, the ultimate experience would be racing a RC Beneteau sailboat while standing on the platform aft of a full-size Beneteau First 40. Now THAT would be legit!
RC sailboat construction can range from inexpensive plastic models to high-end and intricately designed wooden masterpieces. You will also find that some of the high-end models are made using some of the same materials their full-scale counterparts use. The hulls of some of these models are made of fiberglass. Just like the real live boats. Some feature super high-tech carbon fiber masts and aluminum booms. The more economical models are usually made of some kind of plastic. ABS plastic is one of the materials of choice for quality economy models. It's a very popular material when the manufacturer needs to keep costs down yet still provide a quality product. The sail material is often Dacron. The same stuff used for the big sails. Other polymer type materials are also readily available. Just like with the hull, you can build you own sails. Much easier than putting together massive sails for a big boat if you ask me.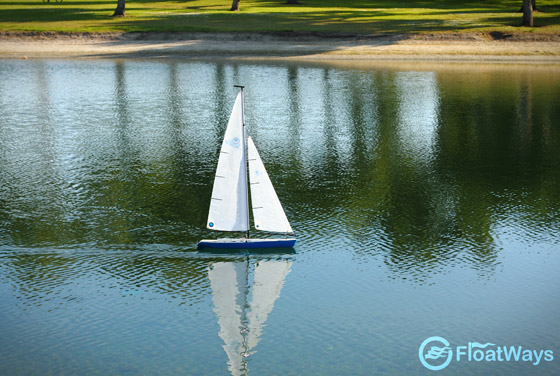 Most RC sailboats are easily controlled using a simple 2-channel radio control. This is similar to RC cars where one channel controls the steering and the other the throttle. In a sailboat, one channel controls the rudder and the other controls the winch for the sails. The winch for the sail simply sheets the sails in or out for the best angle to the wind. If you are familiar with sailing, you'll know how to trim the sails to the sailing angle. If not, it's really easy to learn the techniques of sailing using an RC boat due to it's size and low risk of accident. So, not only are they fun, but they can be excellent learning tools.  A model sailboat can also be out sailing longer than a powerboat model.  The batteries that power the servos will last a long time, while the batteries or gas that's used to run the powerboat models will only last a short amount of time.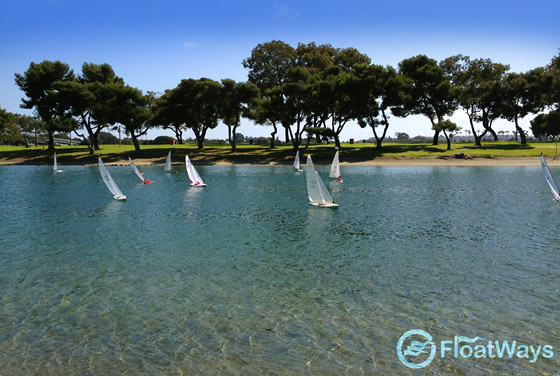 There is a boat out there that's suitable for young enthusiasts as well as seasoned sailors with a more discerning demeanor. Plus, if what you want doesn't exist, you can build it yourself! It would be a matter of buying the available parts for the project, such as servos, controllers and other standard equipment, then building the custom parts from scratch. Most likely, the parts that hobbyists would like to build to custom spec would be the hull itself and the sail rig. For example, a standard racing sloop is quite easy to find. But what if you wanted a replica of Pacific Seacraft Flicka 20 with a gaff rig? Well, you'll have to build both the hull and the rig yourself!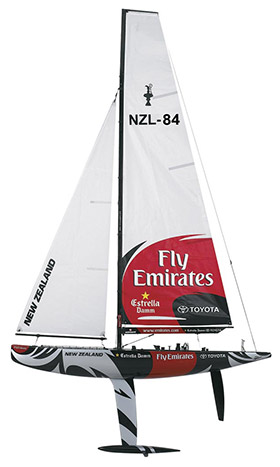 What if you wanted an exact scale model of a modern J Boats J105? A quick search on Google didn't even reveal a non-radio controlled version of it that could be modified. Modern J Boats scale models didn't seem readily available, but 1930's J Class boat models seem to be easier to find. I did find however, somebody that's actually doing what I proposed. He says he wants to build a 1:16 scale RC model of a classic J-Class Boat to race. Now that's motivating! What's more, I even found a couple of incredible RC Catamaran Sailboats. That got me really excited. Another search proved that modern America's Cup RC sailing yachts are more readily available than other types. I even found one with a fiberglass hull, aluminum mast, steel ballast and all the deck fittings of a popular America's cup boat, the ETNZ Emirates Team of New Zealand. The boat is made by a company called Thunder Tiger. Check out its photo to the right. Absolutely beautiful boat! Looks like those guys also make speedboats. Something the folks at Floatways.com really appreciate.
For some, an RC speedboat might be more exciting. While many sailors will still appreciate that kind of design, most will be quick to point out the true exhilaration of racing a sail-powered craft instead. This would be even more exciting if you have good winds in your area and a good club of RC sailing hobbyists. Racing is just more fun when a lot of racers are involved.
If you have been thinking of building or buying an RC sailboat, don't hesitate and start enjoying the thrill of sailing your very own RC boat today. In fact, feel free to contact Floatways.com and send us some photos of your boat. We'll be happy to post them on this page.