Having sailed in a number of regattas and performed all-day sails using my Oakley Oil Rig® sunglasses I saw it fitting to review them for FloatWays.com
After writing the review of the Oakley Dispatch® I realized I had to write one based on sunglasses that are more apt for sailing than for styling around the marina or lounging on the boat. I'm not a big fan of "active only" sunglasses. Therefore, I try and go for a pair that can perform in sport environments and also look like a stylish lifestyle pair of shades. The Oakley Oil Rigs are just that. They look great even though they are perfectly functional when you are active. In other words, perfect for racing in a yacht sailing regatta.

The Oakley Oil Rig sunglasses check every box in my criteria for a good pair of sailing and boating sunglasses.
They fit snugly on my face and won't fall off under heavy movement, so there's no real need for a bungee or a lanyard.
They offer a great wrap with almost full coverage. When I'm looking up at the jib or the spinnaker while trimming, sunlight rays don't get into my eyes from open gaps between my face and the frame itself.
They don't fog while I'm sweating. This is a big one, but the Oil Rigs pass with flying colors. It's sometimes hard to find a full wrap pair of sunglasses that doesn't fog up under sweat. There is just enough ventilation around my face and lens that it's no problem at all.
The lens offers excellent optics and improves vision while the sun is glaring over the water. I'm not a huge fan of neutral lenses overall and the ones I'm currently testing on this set are just that – Black Iridium Polarized. So in essence, dark grey or smoke with a reflective iridium coating. But I'm actually really enjoying these even if my preference is for bronze lenses.
While I recommend polarized lenses for boating and sailing, unlike my other sunglasses, these are not. However, I was pleasantly surprised at this lens' performance even without polarization. Yes, I had to deal with more glare, but for the most part it was not a big deal. I was still able to spot the course markers from further away than any of the other members of the crew. All this says is, if you are looking for a pair of Oil Rigs for boating and don't want to spend $240 on a polarized pair, the $140 or so you would be paying for the regular Black Iridium ones will do the job just fine.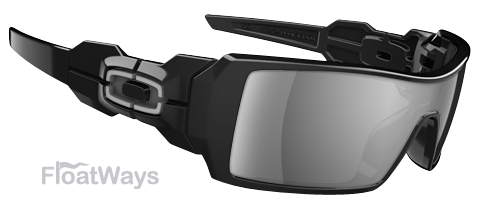 Keep in mind the Oil Rigs feature a one-piece lens. If you ever want to replace it with a different tint, you might have to pay a bit more than you would for two-piece lenses. While Oakley somehow manages to keep the price of the non-polarized versions of the Oil Rig lenses at about the same as two-piece lenses ($55 give or take) the similarities end when you switch to polarized ones. While polarized lenses for smaller styles like Fuel Cell® and Hijinx® retail for around $85, you can expect to pay close to $135 for the same polarized lens for the Oil Rigs. Cha-ching! (for Oakley)
Never did my Oil Rigs fall off.
During the races I participated in I had to do everything from hike at the rail, trim the jib and get down in the hole to help douse the spinnaker. Never did my Oil Rigs fall off. I did find however that thanks to my high cheek bones, sometimes my facial expressions would push up on the bottom of the frame, resulting in minor adjustments needed. I didn't find this to be annoying enough that I would prefer a different set altogether. So for now, the Oakley Oil Rig is my go to frame for sailing. I'm looking forward to getting a hold of some polarized lenses for them soon.
On another note, after getting back home on each of those sailing days I was very surprised to find that my lenses had barely any smudges or water spots on them. Before sailing with them I treat my Oil Rigs with Oakley's Hydrophobic and Oleophobic coating to help keep water and skin oils off my lenses. I'm happy to say it's working great. A little 2-second wipe down took care of the minimal smudges I had. Nothing compared to how dirty they would look if I hadn't treated them at all!
Where to Buy
Buy your pair of Oakley Oil Rig sunglasses using the link below and help out FloatWays in the process: