Boat fenders are inflatable tubes usually made of vinyl that are meant to be put between the hull of a boat and the dock, or between two boats when rafting up to each other. Fenders are an essential part of any well-equipped vessel.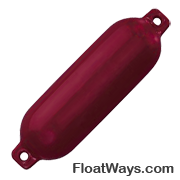 They are pretty much a necessity when docking and also very important when rafting to other boats. When considering boat fenders it's not simply a matter of protecting the finish of your boat. They do a whole lot more than that. Inflatable boat fenders protect the structural integrity of your vessel by absorbing a huge amount of shock that would otherwise greatly damage the hull over time. In other words, it's not good to skimp on something this important.
How many?
Some boaters make do with just 2, but in many cases that proves not to be enough. Two fenders might be all that you need in many cases, but what if you break one of them? What are you going to do then? Or imagine this situation: You show up at a boating party and raft your boat up to your friend's with your very nice pair of good fenders. A few minutes later another friend shows up with his boat and intends to raft up to you. But when you take a good look, his fenders are tiny and inadequate for the size of the boats. Well, since you were too stingy and bought only 2 good ones, there's nothing you can do about the crappy fenders that will be on the other side of the boat. If you had done it properly in the first time, you would be able to protect your boat on both sides if the need arises. For most small vessels 4 fenders is more than adequate. Larger boats are better off with 6 or even 8 fenders available.
…since you were too stingy and bought only 2 good ones, there's nothing you can do about the crappy fenders that will be on the other side of the boat.
Size and shape matters
This should be a simple one based on common sense; bigger fenders go on bigger boats and little ones go on little boats. A small fender would be something like 5 x 20" but even the 8.5 x 27" can be considered small depending on the application. Small fenders intended for small crafts usually feature outer eyelets for the line. Larger fenders tend to feature a channel that goes through the center of the fender from end to end. The line goes through that channel from one end to the other with a knot at one end. Larger fenders are up in the 12 x 34" range. Larger fenders can absorb the higher loads that a heavy craft can produce. Even for smaller crafts, large ones can be a good choice for permanent boat dock fenders that will always stay at the dock. This would provide increased security for your small boat without the hassles of trying to stow them. For the fenders that will be staying aboard the boat, you might want to go with smaller, more convenient ones. For dock fenders there are other options available as well, such as very large, round buoy-types that can be great for additional dock protection.
Fenders are available in a whole array of colors. White fenders are quite popular but they do get dirty quick. Colored fender can be better at hiding dirt, grime and other imperfections. Either way, there are a number of good fender cleaners on the market that can make an old one look great again. For those who want increased protection from light surface scratches, fender covers are available. They are usually made of some type of stretchy fabric with drawstring closures. They help keep the fenders from scratching the boat, but also keep the fenders clean and looking like new. The fenders will last longer too as they are protected from harmful UV rays.
Storage
Fender storage is a very important consideration when choosing a set for your boat. Many modern cruisers include dedicated storage areas for them that will fit a certain fender size. For boats that don't have this sort of storage location, fender storage devices can be purchased. These are usually made out of a stainless steel frame that is attached to the boat's railing. Usually put near the bow on either side, these porta-fenders can usually carry anywhere between 4 and 8 fenders total. They also make them really accessible.
Final notes
If they are taken care of, fenders can last a long time. Regular cleaning and rubber conditioning can help keep them from rotting prematurely. Buying a set that uses a screw-on cover for the valve can also help increase longevity as the cheaper black-rubber valve types tend to rot sooner. Also, make sure to choose the proper type and length of rope for your fenders. Alternative attachment methods are available for quick installs. These alternatives bypass the need for knots when one is on a hurry to set a fender to the rail.
Next time you are out shopping for equipment for your boat think about the quality of your current fenders. Then, don't just go out and search for boat fenders for sale. Think about how many you actually need. Make sure you know what your boat's size and normal usage requires for fenders then go out and search for them. That way you won't be caught up on price and features but rather on exactly what it is that you need.