Simple Intro: A bilge pump can help keep your boat from sinking
A bilge pump is an absolute necessity in any vessel. A bilge pump is a water pump designed to pump water out of the deepest part of the bilge of a boat. Many small boats for day use can get away with a single electric bilge pump. Larger boats and yachts should be fitted with at least 2 high capacity bilge pumps. One is the primary and the second one is the backup. The backup is usually set to activate only if the primary one has been blocked, breaks or is simply overwhelmed. To be clear, I say 2 pumps are the bare minimum, but if you ask me, I'd recommend more, specially for large expensive boats or those that go far out to sea. Additionally, it is a good idea to have a hand operated bilge pump aboard. In case there is an electrical failure a hand bilge pump can be used to manually pump water out of the boat. It can also be used in case of an emergency if the electric pumps are simply not coping.
Rule bilge pumps are some of the most popular pumps on the market. They make all kinds of marine pumps that range from little units for small runabouts to large behemoths that are claimed to pump up to 8000 galons of water per hour. Keep in mind that these ratings can be affected by the height to which the water needs to be pumped up to and by the diameter, type and condition of the lines and outlet that lead the water out. Apart from Rule, there are other well-known pump manufacturers such as Attwood and Johnson bilge pumps.
Since the most widely used bilge pumps feature a centrifugal impeller, they don't quite suck up every little bit of water down there. This means, that in most cases you'll always have a little bit of water at the very bottom of your bilge. To suck up every bit of water in the bilge you'll need a diaphragm pump. However, the more common centrifugal impeller pumps offer better capacity and have been proven more reliable.
Float switches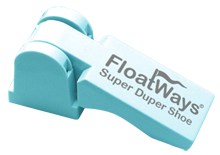 Since bilge pumps need to also work when nobody's around to activate them, they are fitted with something called a bilge pump float switch. A float switch is essentially a device that is affixed to the bottom of the bilge along with the main pump and cuts and feeds electrical power to the pump. One section of the float switch, often called the shoe because of its shape, is designed to float up as the water level rises inside the bilge. When this portion of the switch floats up it closes an electrical circuit inside the switch that then powers up the pump. The bilge pump will continue pumping water out of the vessel until the level is low enough that the float switch drops and disconnects the electrical current. As you can imagine, in boats that are left in the water unattended for long periods of time, a float switch is as important as the pump itself. Keep in mind that there are some pumps on the market that are designed as automatic pumps. These pumps don't need to use an external float switch as they have an internal mechanism that switches them on in the presence of water.
Maintenance
It's important that you check the condition of the bilge pump regularly. Always make sure it is working properly and reliably. The same thing goes for the secondary pump. Bilge pumps will suck water up through a strainer that needs to be cleaned regularly. Additionally, debris can oftentimes pass the strainer and collect inside the pump unit itself. Periodically, remove the pump base and clean it inside. Just as importantly, keep the bilge of your boat clean. Even if the pump doesn't get completely blocked by debris, sections of the pump strainer getting blocked up by debris can seriously slow down the pump's efficiency. This will lead to longer and more strenuous run times and eventually to complete failure.
Given the huge importance of the float switch, it is something you also need to pay extra attention to. Make sure nothing is blocking the float switch shoe from being able to float up. Also, the cables that plug into the shoe and pump tend to corrode and rot over time. Be sure to replace them every couple of years if not sooner.
In my experience, I usually have bilge pump float switches fail sooner than some of my trusty little Rule pumps. In any case, check the whole system. The last thing you want is a pump system failure when you need your bilge pumps most. Finally, make sure your battery and recharging system is capable of handling all the needs of your boat, including the bilge pumps running for extended periods of time. If you feel that's not the case, you might want to consider upgrading your batteries and/or recharging system. Additionally, if your boat is docked in a permanent dock with shore power and you usually cut off the battery power before leaving, make sure your bilge pump electrical connection system overrides the battery cut-off switches. You want to make sure those pumps come on even in the event of a shore power black out.