GoPro announced the release of the HD Hero 2 camera as a follow up to their hugely popular HD Hero. Of all the features we are mostly excited about the various field of vision angles.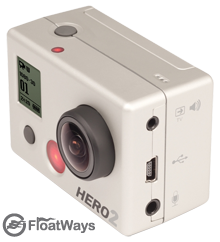 At FloatWays we use GoPro HD Hero cameras to film regattas from inside the boat and for various watersports activities. We use one when we go windsurfing, kiteboarding, surfing and even snowboarding. Some of us are car fans too, so we use them for that as well.
One request we've had for the longest time when speaking with the high-ranks of GoPro authorities is that we wanted a camera that allowed for a narrower field of vision. We love the original GoPro HD Hero, but found ourselves often needing to combine footage from one of them with the footage from a standard angle HD camera. We've been doing this to help add more variety to the shots in a multi-clip video. Well, now we can do it using strictly GoPro cameras!
We haven't gotten a hold of one yet, but as soon as we do we'll be reviewing it here. However, on paper, the specs look astonishing. Here are the biggest highlights:

For the first time in a GoPro camera, you can shoot in 170°, 127° or 90° field of vision angles in full 1080p HD video.
Better low light video performance. This is one big gripe of the original HD Hero cameras.
It can shoot still photos in 170° and 127° FOV angles
For fast action stuff, the HD Hero 2 can shoot 10 11 Megapixel photos in 1 second bursts!
The camera features an improved glass lens.
It's compatible with all the previous Go Pro expansion accessories including the BacPac screens. (Good 'cause we'd like to use our recently purchased BacPac with this new camera.)
It has a bunch more features including some extra accessories like a WiFi BacPac and remote. However, what we listed above is what we're mostly looking forward to. Once we test one out we can decide what new goodies we should get for it. Over at FloatWays we're not only connected to boat people, but surfers, skaters and mountain bikers too. So we definitely put these cameras to good use.
A few months ago we put together a feature to show you how to create a multi-angle sailing video using only 1 GoPro camera. Read that feature article here. Soon, we'll be combining the power of the original HD Hero cameras with the new niftiness of the HD Hero 2.
Stick with us by subscribing to the FloatWays YouTube channel.