Boat trailer wheels and tires… Ah! Something that the freshwater folks need to worry about only half as much as the saltwater guys do.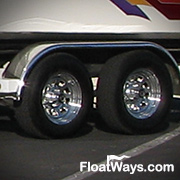 Why is that? Well, saltwater literally destroys them much quicker than freshwater ever can. This happens even if you rinse them off with fresh water after every boat launch and retrieval. The thing is, there is enough time between the saltwater submersion and the rinse to allow the salt to penetrate and begin causing damage. Multiply this by every time you use your boat and you'll see where I'm going with this. Fresh water will still aid in corroding these parts, just not as quickly. Keep in mind that I'm not only talking about the metal parts here. The rubber in the tires rots over time. The more that rubber is exposed to the elements the quicker it will rot. I you start seeing tiny cracks in the tire sidewall and tread, this means the rubber is starting to age. Keep an eye on them and change them as soon as possible. Depending on the size and weight of your boat, and the length of your trips to your boating location, this situation could be considered an emergency.
Wheel material construction and durability
As with anything, buying quality makes a huge difference. Not all galvanized steel wheels are made the same or even of the same grade. Some of these can corrode much quicker than others. Some trailer wheels are not galvanized, but painted. Keep a good eye out on those. The paint protects the wheel better than if it were completely exposed. However, over time water slowly begins to seep in under the paint through imperfections, pinholes, cracks and scratches. Water can collect between the lug nuts and wheel and begin rusting out the metal. The problem is that the corrosion starts developing under the paint where you can't see it. Soon enough it becomes like a cancer that eats up the wheel from under the paint first. If you don't catch it early enough it might be too late. Oftentimes, if you start seeing small levels of rust on the wheels, you can take them off, clean, sand and repaint them with rust inhibiting paint. This can usually extend the life of your trailer wheels by an awful lot.
If you are looking for better durability and style, you could opt for aluminum trailer wheels. If you go this route, keep in mind not any aluminum wheels will do. You need to find some reputable wheels that are rated for the load you are going to carry. Many regular car and light duty truck alloy wheels don't display those ratings openly, and if they do, you'll often find that the load rating is not enough for the extra weight a boat will put on them. There are many aluminum wheel options on the market, but keep in mind you'll be paying between double to 4 times more for each of them when compared to their steel counterparts.
Tire durability
Tires won't rust, but the same applies to them as it does to wheels. Buy quality tires and save yourself a headache. In fact, more than with wheels, buying brand name, high-quality trailer tires can make the difference between a fun day at the bay or a mid-day nightmare. But what are the best boat trailer tires? Well, like with most other things, there isn't a BEST trailer tire but there are several good tires out there. I'd recommend sticking with a USA, Canada or New Zealand made tires, but more importantly, do the research and see what others are saying. Some good things are being said about the Maxxis radial trailer tires and also about the Goodyear Marathon Radials. These are trailer specific tires that rate from C thru E based on size and load bearing capacity. A quick search also brought up some good things about Carlisle. The bottom line is you want a good reputable tire by a reputable brand that is rated for the size and weight of the boat you are towing. For example, a Goodyear Marathon Radial 185/80R13 is rated "C" and according to TireRack.com has a max load capacity of 1480 lbs. By contrast, a 225/75R15 rated "D" is supposed to handle up to 2540 lbs.
Since trailer tires will rot like any other, steps must be taken to help extend their life. Obviously, washing them after every use helps. If your trailer sleeps outside make sure water doesn't form puddles around the tires after a rain. Tires sitting in a puddle of water for days on end usually equates to very bad news. If possible try and cover the rig in such a way that the tires are not baking in the sun every single day. Water is bad for the rubber, but the sun beating down on them all day, every day, is actually much worse. Yes, they are vulcanized. Yes, they are much more durable than natural rubber. But they will rot.
Important measurements to consider when choosing wheels
When purchasing wheels for your trailer, be sure to check the lug pattern on your hubs. 4 -5 hole lug patterns are easy to find for most applications, but 6-8 hole patterns are not uncommon for heavy-duty stuff. Also, keep in mind that not all patterns are the same even if the number of holes is.  For example, a 5-lug pattern can be found in common bolt circle diameters such as 5×114.3mm and 5x 100mm among a host others.  Below is a useful chart of lug patterns and how they convert from Inches to millimeters. I'm not going to go into detail on how to measure those patterns as you can easily Google that.
Lug patterns
4 x 3.93in = 4 x 100mm
4 x 4.25in = 4 x 107.95mm
4 x 4.33in = 4 x 110mm
4 x 4.50in = 4 x 114.3mm
4 x 5.12in = 4 x 130mm
4 x 5.51in = 4 x 140mm
5 x 4.00in = 5 x 100mm
5 x 4.25in = 5 x 107.95mm
5 x 4.50in = 5 x 114.3mm
5 x 4.53in = 5 x 115mm
5 x 4.72in = 5 x 120mm
5 x 4.75in = 5 x 120.65mm
5 x 5.12in = 5 x 130mm
When looking at ideal wheels for your trailer also make sure to consider the wheel offset. This measurement is extremely important as it refers to how much the wheel is centered vertically over the mounting surface of your hub. Meaning, how much towards the outside or inside of the hub the wheel center will be. Again, I'm not going to go too much into detail on how to measure offset, suffice to say: offset is the measurement of the distance away from the wheel center of the mounting surface face. This number can be negative or positive.  It would also be important to mention that unlike modern cars where the offset of the wheels is usually positive, zero offset wheels (where the wheel center is perfectly centered with the mounting surface) are extremely common on trailers.
More wheels for bigger boats
As far as setup goes, make sure you are using boat trailer tires and wheels properly rated for your boat's size and weight. Not all trailer tires can handle certain weight capacities. If you currently have a boat but no trailer and you are considering buying or building one, make sure you research the optimum weight capacities for the size and weight of your boat. Many small crafts are OK with a single axle, and 1 wheel on each side. Other larger boats require 2 axles and a pair of wheels on either side. Heavy, long boats like offshore racing boats often boast 3 axles for a whooping 3 sets of wheels and tires per side. Properly rated springs and axles are extremely important too. And finally, make sure you fit your boat trailer with an adequate amount of spare tires. In most cases, 1 spare is enough. But for larger boat trailers with more than 1 axle, doing longer trips, more than 1 spare is usually a very good idea. Also be sure to carry a jack that can handle the extra weight of your boat and trailer. You won't be able to change out a flat tire safely if the jack is not strong enough.
Hub, bearings and axle maintenance notes
Another very important thing to consider in your maintenance list is the hubs and bearing setup. And it should not stop there. Regular maintenance of the axle(s) and leaf springs is extremely important. Those will also rust and snap wildly. You don't want those breaking. Keep in mind that very often your boat can weigh more than you car so just imagine the possible damage. Make sure the seals for the bearing assemblies are sound so no water is seeping in. Also make sure the bearing enclosures are clean and nicely packed with grease. If you can invest in hub bearing covers with a greasing nipple, even better. This will allow you to pack the bearings with grease, at pressure, without having to remove the covers. This can be extremely helpful for long trips where you might want to re-grease your bearings at intervals. It can also help at pushing water and other junk out of the crevices around the cap and seals.
Where to buy: You might consider buying online to save yourself the hassle of driving around. What you want is a shop that has a huge variety of in-stock trailer wheels and tires so that you don't waste time. Plus, the worst thing is finding a shop that supposedly carries the ones you want, only to find they don't have them in stock anymore. For that reason, you should start with West Marine here – That link has pages and pages of tire and wheel selections. Otherwise, another GREAT option would be Tire Rack. Those guys will even pair the tire and wheel of your choice, put them together and send them to you pumped and ready to be fitted.