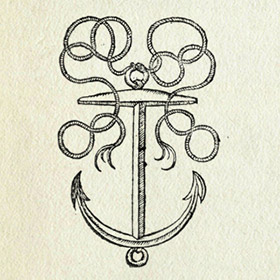 Boat anchors, are probably one of the most important pieces of equipment you can have aboard. While moving along is more fun, staying put is just as important. I know many sailors and boat people that carry only one anchor, unless I'm doing a short race in a surrounded body of water such as a bay or lake, I always carry at least two.
The type and size of the anchors you will use are dependent on the seabed you will be anchoring in and the size of the boat. As far as boat anchor anchor sizes go, the bigger the boat, the bigger the anchor. Anchors are designed for specific bottom conditions. Most modern anchors are designed to bury themselves in the seabed. These anchors can oftentimes perform well across a large array of conditions, such as sand, thin gravel and mud. Some examples of these anchors are the spade, plow and the fluke anchor, named Danforth for its inventor. For situations where the seabed is rocky or covered in weeds, burying anchors are less effective as they tend to drag across the surface of the seabed and not bury. For these types of situations a more traditional hooking anchor is necessary. Some examples of these anchors are the grapnel and the admiralty pattern anchor, otherwise known as the traditional fisherman's anchor. When you think anchor, the image in your head is most likely the fisherman's anchor. While it's not used as much as other types these days, the iconic shape with the two big arms below the shank is by far the most commonly recognized anchor by non-sailors. The grapnel, mentioned earlier is quite popular among boaters who frequent rocky-bottom waters and with spear-fishermen. The larger ones can be cumbersome to stow, but there are a number of smaller collapsible designs available. The downside of grapnel is that they often foul on their own rope and due to their shape can oftentimes become lodged in such a way that they are impossible to retrieve. Since I've done quite a bit of spearfishing, I used to carry a small collapsible grapnel. As I mentioned before, they are popular in shallow waters. At those times where my grapnel would get lodged in such a way that it was impossible to retrieve, I would simply dive in and retrieve it by hand.
The length of the rope is almost as important as the anchors themselves. You can't anchor if the rope is not long enough for the depth of the waters. Plus, even if you can reach the bottom, you still need a lot of more line in order to allow the proper angle for the anchor to engage. This is called "scope." The amount of scope you need, (or extra line) is dependent on a few factors. If you are using chain instead of rope, the scope ratio minimum is 3:1. In other words, the chain should be 3 times as long as the depth of the waters. For rope, the scope should be 5:1, or 5 times as long as the depth. If you are anchoring in 20 feet of water with rope, to be safe and secure you'll need at least 100 feet of rope. Obviously, if you are anchoring for a short period and in tranquil waters, you'll be OK with slightly shorter scope.
Boat Anchor Types
Below is a list of some popular and traditional anchors with a brief description:
Fluke Anchor – Also known as Danforth and by the modern aluminum Fortress name. They are very popular in sandy locations. In the Caribbean for example, fluke anchors outnumber just about any other type of anchor.  Galvanized steel fluke anchors are the most readily available due to their price, reliability and durability.  However, aluminum fluke anchors, in particular Fortress, are the most popular aluminum boat anchors available.
Plow Anchor – A very popular design. They resemble a farmer's plow and dig into the seabed, hence the name. They are oftentimes hinged, but some designs are solid.
Spade Anchor – The spade anchor is a modern design that has become increasingly popular. Due to it's modern inclination, it can be found in an array of materials such as stainless steel and aluminum apart from the traditional galvanized steel.
Bruce Anchor – The Bruce anchor is a solid design and features large flukes. It was designed in the 1970's and named after it's designer. Also called "claw anchor" by some due to its obvious large claw-like flukes. The Bruce become popular originally on large commercial ships, but the generic "claws" in smaller sizes have recently become popular with small boaters.
Grapnel Anchor – A traditional design with four or more tines at the end of the shank. They are good at hooking into rocky seabeds, but sometimes get hooked so well they become impossible to retrieve. Grapnels are quite popular by fishermen in shallow waters. Many fishermen make their own out of construction rebar.
Admiralty or Fisherman's Anchor – This is the anchor you usually see in books and paintings and other types of artwork. It is the iconic shape that non-sailors quickly think of when someone mentions the word anchor. It features large long shank with an eyelet at the top for the rode with two hooking arms at the bottom. The two hooking arms carry the flukes. When it hits the seabed and drags, the flukes on one of the two arms will catch and dig into the bottom.
Stockless Anchor – This anchor is also known as the Navy pattern anchor. Developed late in the 19th century, this anchor is easy to handle and stow. While their holding power was not as strong as some other designs, the ease of handling made it very popular. The stockless anchor features a pair of flukes connected to the main shank via a hinge that can pivot the flukes to either side.
There are many more types of anchors and variations of each design. But the information above covers most of the popular designs and just about everything you will ever need. Keep in mind we are not discussing permanent anchors in this article. For most boaters, it is wise to carry a main anchor and at least another smaller reserve or spare anchor. Spare line is also a good idea.
If you enjoyed this column, you might want to read the one about the anchor windlass here.
Where to buy: You're probably thinking the best place to buy a boat anchor for your boat would a marine supplies shop. But you'd be wrong! Just take a look at the huge amount of anchors Amazon has here.