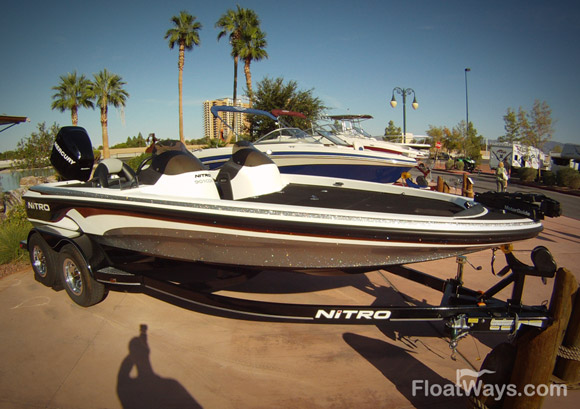 For some of us that either have only done saltwater fishing or haven't fished at all looking at bass boats can be utterly confusing. Specifically, looking at buying one or equipping one can be even worse if you don't even know where to start. So, the purpose of this column is to go straight to the point and find out what are the top 5 most important accessories you need for a new bass boat. The folks at FloatWays.com appreciate all the input by expert, Jason at Bass Pro Shops in Las Vegas.
We are not talking about all the little accessories here like fishing rod holders, tackle boxes and all sort of little gadgets that you need aboard. What we are talking about here is the most important accessories for the boat itself that an experienced bass fisherman will consider mainstay on his boat. So, let's get started, in order of importance: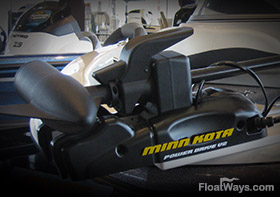 Trolling motor: This is by far the most important piece of equipment you will need for your bass boat. Yes, some boats come equipped with one but some don't. Oftentimes, those boats that do come equipped with one have a subpar setup and upgrading is usually in your best interest. Most folks look at the main gas motor first and make sure it has enough power for the boat, but keep the trolling motor as an afterthought. If you are serious about fishing and want a well-equipped bass boat, you should consider your trolling motor as your number 1 priority. There's a reason why our expert put the trolling motor at the very top of his bass boat accessories list. The little thruster engine is what's going to take you to the fish. Common sense will tell you that it's better to be a little over-powered than a little underpowered. Trolling motor power is measured in pounds of thrust where smaller 14 foot and under boats can do with a motor in the 25 lbs. of thrust range. A bigger 15-17 foot boat will require a trolling motor in the 35 lbs. thrust range and the big tournament boats in the 18-20+ foot range will require motors with thrust between 40 and 50 pounds. As far as brands go, some popular ones include MotorGuide, Minn Kota and Sevylor.

Here's a good example of a fish finder at the helm.

Fish finder: Once you have your trolling motor sorted the second most important piece of equipment you'll need to sort out for your boat will be the fish finders. We say "finders" because our expert was adamant about having a fish finder at the helm and another forward where you would be sitting to fish. You want to have that fish finder close to you when you're near the bow operating the trolling motor so you can easily find and follow the fish exactly where you will be casting. Having a fish finder at the only helm works, but also having one up ahead is key to catching more fish. For fish finders, look at Garmin, Humminbird and Lowrance. In the lower price ranges one great model is the Garmin Echo 300C Dual Beam Sonar Fish Finder. It sells for about $300. If you are looking for more pro features and a big price tag, the Lowrance HDS-7 Fishfinder/GPS Chartplotter plus StructureScan Sonar Imaging Bundle. That last one sells for about $1,600.

This is pretty interesting… A very popular fish finder that works with your smartphone or tablet. It has tons of 5 star reviews:




Powertrim on the wheel: The third most imporant bass boat accessory is more of a piece of equipment than an accessory. This one's a fun one too. It's the powertrim with steering wheel controls for the gas motor. Bass fishermen may be patient enough to sit around at low speeds for hours on end, but when they want their boat to haul ass they know how to go fast! It's not uncommon for a good bass boat to hit 80 MPH+. At those speeds the boat's riding platform is limited to a small section towards the back of the boat. It is extremely important that the driver can easily trim the engine's tilt angle up or down without having to take his hand off the wheel. This is when a quality powertrim with steering wheel controls comes into play. Many boats and engines come with a tilt-trim control on the throttle lever, but having those controls on the steering wheel is so much better. So says our expert Jason. We're not going to argue with him!

Hot Foot gas pedal: This one goes along the same lines as the steering wheel power-trim controls. You don't want to have to take your hand off the steering wheel at high speed in order to adjust your throttle with a lever. For this reason, you should equip your new bass boat with a Hot Foot gas pedal. You are probably used to controlling your car's speed with your right foot anyway, so being able to control your boat's speed the same way is not only safer but also common sense. Look to spend about $150 to outfit your bass boat with one if you're handy and can do the installation yourself. If at all unsure, it's worth it to pay a pro to do it. If you're buying the boat from a dealer, chances are you can set up a deal to include the Hot Foot and the time you are negotiating the purchase. That's why it's good that you read this before you buy! If you have friends that might be interested in buying a bass boat don't forget to share this article with them.

Electric hydraulic jack plate: The fifth and final most important bass boat accessory is again a main engine control. This one is the jack plate to lift and lower the engine vertically. Unlike the other 2 engine controls mentioned above this one is not just meant for when you are going fast. A jack plate ideal for getting into really shallow water as you can raise your engine high enough to bring the skeg and propeller very close to the surface of the water while avoiding extreme trim angles. While there are plenty of manual ones available, you really want an electric hydraulic jack plate because it will make all the difference in the world. You really want to be able to control the engine height from the helm. It is also a very good trimming tool when moving around at various speeds and water conditions and it also works in conjunction with the power-trim. If the water's rough and there's plenty of waves at the lake, you can lower your engine's propeller deeper into the water helping the boat handle better in the rough. Once the water smooth's out and you want to loosen up the boat to go faster you can raise the engine higher to bring the prop close to the surface. All along you can fine-tune your boat's movements and bow angle with the powertrim. For any serious bass boater a powered jack plate is an essential piece of equipment for a well-equipped boat. A popular model is the CMC PL-65 Electric Hydraulic Transom Jack Plate. Look to spend about $675 for one of these. Worth every penny!
As we said earlier, some new boats already come with a number of these accessories. However, make sure to do your research and decide whether or not you should upgrade any or all of these pieces of equipment. In most circumstances, included accessories are chosen based on the dealer's intended price point and markup. It's in your best interest to learn about these accessories and find out what will suit your boat and your needs best. You'll save some good money by deciding on the best accessories for your boat before you have bought it. In fact, it's even better if you decide on all the equipment you will need and then head to the dealer. That way you can work out a money-saving deal with them at the time of purchase.
When talking about used boats, you will oftentimes find well-equipped boats where the previous owner has already installed or upgraded many of the accessories mentioned above. But still, be sure to learn about what's on the boat because sometimes an owner might sell some of the better parts, such as the trolling motor and install a less expensive model before selling.
By the way… Searching around the internet we ran into this video of what we would consider the ultimate bass boat accessory of them all. It's the one thing YOU NEED when dealing with a non-fishing girlfriend. You're going to have to watch it to find out…