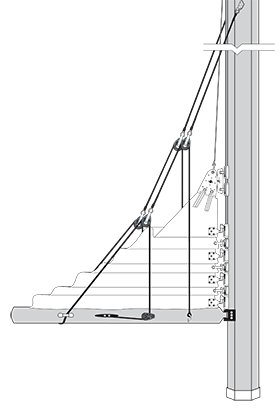 A lazy jack system on your sailboat – a classic case of form vs. function. Some say it's uncool. Some say it's the usefulness that matters. Up to you to decide.
Lazy jacks are rigging lines that are fitted to the upper section of the mast and come down towards the back and middle of the boom. A properly installed system of lazy jacks are meant to help guide the sail down as it's being doused or reefed to make the job easier. Using lazy jacks is a great idea for singlehanded sailors, those who are short on crew or for a lazy crew that just wants the job to be easier! Some lazy jack systems are fixed while others can be detached from the boom and stowed against the mast. What they are is basically a guiding system to keep the sail over the boom as it's coming down rather than having it fall over into the cockpit cluttering everything up. Lazy jacks are most common in Bermuda rigged sloop sailboats but can also be found or more traditional gaff rigs.

Lazy jack systems can be bought off-the-shelf or custom made. Neither is necessarily the best way to go about it. It all depends on your boat, your needs and how you want the system installed. Of course, if you have time to work on it, doing the job yourself is the most inexpensive way of installing a lazyjacks system. Plus, another benefit of making them yourself is that you can build the system specially designed for your boat, to fit perfectly and work better than off-the-shelf systems. You can likely put a lot more thought into building materials and end up with a system that not only works better, but also lasts a lot longer.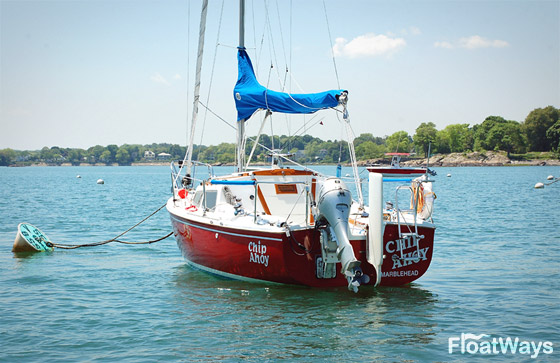 There are plenty of sailors that think they are uncool and unnecessary, especially hardcore racers. But at the same time, there are plenty of function-minded sailors and cruisers that swear by them and don't give a rat's ass what the other guys think about them. Some claim they can catch on sail battens when hoisting and can also chafe the sail when left on while sailing. Those are obvious downsides. But a point in favor of the lazy jack followers is that a properly installed system that can be stowed at the mast while not in use offers the best of both worlds. You can move the lines aft and deploy them before dousing or reefing and then put them back against the mast when it's time to hoist again. Even some racers claim this is the way to go.
The point of the matter here is simple. Will they work for you or not?
The point of the matter here is simple. Will they work for you or not? Will they help you improve your time aboard by making the job of a douse or reef easier? If your crew needs the extra benefit, or you sail alone, it makes total sense to run lazy jacks. Screw what everyone else thinks. At the end of the day, if your crew needs the extra help, having lazy jacks can even boost your safety factor aboard by not having to deal with the sail when you have to worry about more important things like docking or getting ready for a storm. In which case, who the heck cares if they are uncool? Get lazy… jack!
Where to Buy
Check out the popular Harken Lazy Jack Systems. They have two. One for small boats and one for large boats. Simple. 🙂 – Below is a link to the large Harken Lazy Jack Kit on Amazon:
Chip Ford, who was kind enough to provide us with the photo of his boat, has a straightforward guide on how he installed the Harken Lazy Jacks. Check it out here.