Boaters all around the world have many things in common. One common trait all boaters seem to share is having to deal with sunburn.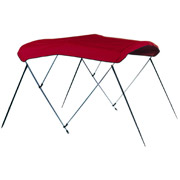 Actually, it goes beyond just sunburn. The need to protect oneself from the harmful rays of the sun goes beyond simply getting sunburned. Even if you don't get sunburned, exposing yourself to the sun's harmful rays day in and day out is quite frankly, bad for you. Anyone who's a boat lover knows that being outdoors and spending time in the sun just comes with the boating lifestyle.
There is enough evidence to point out that too much sun can kill you. But not all is lost… there are a number of ways you can protect your skin from the sun. But let's focus on the greatest invention sun-seekers have ever seen… The Bimini Top!
Yes! A bimini top could save your life!
What's so special about the bimini top? Well, it's not simply a boat cockpit cover. The way a bimini top is designed has proven that it can be used, in some shape or form on just about any boat type out there. Think about it, you have probably seen sailboats and race boats with bimini tops. More commonly, you can see them on little runabouts, sport fishing boats, aluminum skiffs and pontoon boats. But nowadays you can even find them on ski and wakeboard boats. Yes, there is such a thing as a bimini top for wakeboard towers. Admittedly, there is something cool about a boat with no top on. A top-less boat! It's like a convertible roadster. But there's no two ways about it, if you love your time on the water you need to extend it as much as possible by protecting yourself, friends and family aboard. What's more, you can easily find them in a wide variety of available colors to match.
Benefits of a bimini top over other types of boat canvases.
The sun-protecting benefits of a bimini top are obvious, but below are reasons why they might be better than other types of tops for some boaters.
Visibility. Since the bimini top only covers the absolute top of the cockpit area with the support of very narrow tubing in most cases, the range of visibility is unparalleled. In fact, in some boats with this kind of top you sometimes forget it's even there!
Ease of setup and removal. No other top is easier to install and remove than a bimini top. You can cruise around all morning with the top down and once the strong mid-day suns starts hitting, you can very easily fold the top up, set two hooks and maybe a pin or two and you're ready to go. Removing the entire assembly is almost as easy. All the pivoting tubing is usually attached to the boat with pins onto a set of support deck bases. If you need to leave the entire thing at home or at the dock, just remove all the pins and hooks in a minute or two.
Compatibility. There is simply no other type of boat cockpit cover that is available so widespread for just about any type of boat. As mentioned earlier in the article, think about a boat type and you can probably remember seeing at least one with a bimini top. Maybe not jet skis, canoes or kayaks but the folks at Floatways.com are used to seeing them on super fast cigarette racing boats out on weekend beach getaways sporting bikini-tan-protecting bimini tops!
Low cost. A custom canvas set for a boat can be very expensive. Most boat owners that want custom fit canvassing have to pay a premium for that. However, once nice thing with bimini tops is that in specific size ranges they can fit a great variety of boats. This means that they can be mass-produced in larger numbers, therefore reducing costs. A search among the most popular boat accessories suppliers showed us that prices for most bimini tops for boats in the smaller size gamut hover around $625. This includes all the necessary bimini top hardware. Looking further, we found a number of others for around $700 with some bigger premium models going for close to $850. This is for standard types. As we mentioned earlier, you can get tops for center console-boats, and even sailboats. For more specific applications like that, the prices tend to go up a little more. A very large bimini top to cover the deck of an entire pontoon boat is about $1,000. A full T-top variation for a center console boat with all hardware needed showed up at close to $1,900. But keep in mind those are very specialized applications requiring more hardware. However, when looking for bimini tops for wakeboard tower, the prices were shockingly low. We found a nice setup for only $260! It's obvious the included support of the tower itself helps reduce the cost.

…we can assure you pretty girls like bimini tops.
With all the available information about the damage the sun's harmful rays can do to you, there's no excuse to keep messing around with that. The benefits of installing a bimini top far outweigh any of the potential cons. Think a bimini top will make your wakeboat look uncool? Put one on, load up a few girls and nobody will be looking, or even caring about the look of the bimini top. They are only going to care about the bikinis. In fact, we can assure you pretty girls like bimini tops. Bimini = bikinis! -FW