There are very few situations in which an iPhone is not an ideal tool. Boating, sailing and fishing are no exceptions. This is a compilation of our favorites apps…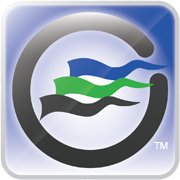 iPhones have invaded just about every aspect of our lives and are here to stay. Some very clever people have figured out how to put the handy little phone to good use in marine situations. The folks at FloatWays looked around the web for a good compilation of marine apps and we were disappointed with the lousy lists that we found. So, we decided that in the spirit of quality, we'd curate our very own app list.
Now, there are a couple of things that make this guide very unique. You could of course go to the Apple iTunes App Store and type in a search for "sailing apps" or marine apps" and get a bunch of relevant results. But here, apart from some popular boating-dedicated apps, we will show you some apps that are not necessarily made for boating, but are equally as useful on a boat as they are anywhere else.
If you are wondering why all the apps on this page are rated either 4 or 5 floats (out of 5) is because we didn't even bother publishing the ones we thought were 2's and 3's. In other words, the ones you see below are the good ones.
Read on and put your digital device to work for you, on your boat!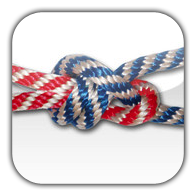 Knot Guide – If you've been on a boat 24/7 for the last 20-something years and you've taken every single seamanship course in existence you might have mastered the ninja-like skills of marine knot tying. However, just about every one else who steps foot on a boat on the weekends needs help with knots. After a while, a bowline and a cleat hitch will become second nature, but there are plenty of other useful knots that could potential save your bacon and make you look like a genuine sailor amongst your friends.
The Knot Guide (or KG Guide) can help you with just that! The app has a directory of knots based on type. The initial intro of a any knot contains a brief description on its practical uses. We found this feature to be essential. Otherwise, why would you even consider tying a knot that you don't even know what it's good for? When you select a knot you can then swipe your finger across the screen to see step by step photos on how to tie it. Simple enough. The developer has a free version available, which incidentally leaves out the simple bowline. To get that one, plus 90+ other knots and remove the pesky ads you must upgrade to the paid version. At the time of this writing, it's $1.99. Well worth it if you ask us!
Pros: Handy, useful and convenient way to easily reference knots, their use and how to tie them. Ability to store favorite knots.
Cons:  Having video for the more popular knots would be great. We've managed without it for years. O.o
Website: Winkpass Knot Guide

---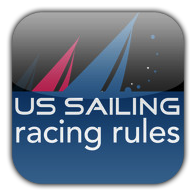 The Racing Rules of Sailing – Just like when dealing with marine knots, remembering important sailing rules of racing can be a little difficult sometimes. What's worse, is that oftentimes when you really need to know a rule, symbol, flag or signal is when it's urgent. In these cases you don't have much time to go through a book. Having an app where you can easily and quickly search for a rule becomes priceless. Or, if you get protested during a race, you can quickly go see if they are right or not before entering the protest room. By the same token, you can use the app to find out if you're making a fool out of yourself by protesting another boat if you don't really know the rules very well.
Like many other marine apps, this one is on the pricier scale. Pricier when compared to the typical $1 or $2 apps. This one is $5.99. We can only guess it's due to the target audience. We suppose the developer assumes that sailing = money, therefore an iPhone app for sailors will be like an Australian visa for an American visitor… Pricey.
Still, while some of you may complain it's not a buck like most other iPhone apps, having this kind of information handy when you most need it is a very good thing. The developer says this is the only sailing rules app that is approved by US Sailing.
Pros: Quick and easy access to sailing rules, signals and flags. Endorsed by a respected sailing authority in the US.
Cons: Pricey. While compatible with iPad, the app is really iPhone native and looks best on iPhone. (Maybe that will change in a future update)
Website: US Sailing Website

---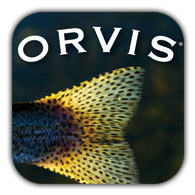 Orvis Fly Fishing Guide – We have to admit, this is one very neat app for the fly fisherman. Based on looks and reputation alone, if you are committed and devoted to fly-fishing (which is how we have found most fly-fishermen to be) you will probably end up buying this app. That's even after we tell you that it's worth 15 bucks! That's the price of 15 "other" iPhone apps. However, at the time of this writing, the app is sold with a $10.00 Orvis gift card. So if you buy from Orvis often anyway, the app is essentially $5 to you.
But enough about the price. What we liked most about it was the fly-fishing knots guide and the way it goes about showing you how to tie them. This app has step by step instructions as well as video for all kinds of tips related to fly-fishing. You can search for the fly by type or by name. Same thing goes for the knots, you can find them by their use or by their name. The app also has some very useful features like fishing license info, fishing reports, access to podcasts and even a glossary of fly-fishing terms. Due to the nature of the app, the target audience and the price, there are not very many reviews and ratings about it like there are for some of the other fishing apps. However, the user ratings it does have are generally much better than the others'.
Pros: Well designed, high-quality, serious app. Obviously somebody took their time with this one.
Cons: $14.99! …and we were complaining about the price of the US Sailing app! O.O
Developer's Website: Green Mountain Digital

---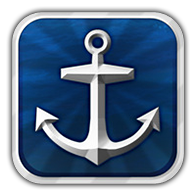 Harbor Master – The first thing we did at FloatWays when we got our first iPhone, a 3GS a few years ago, was look up some cool boating apps. A search somehow brought us to this game. We saw the iTunes store ratings and we decided to give it a shot. 99 cents later we were busy docking ships into tiny little container ship ports. We admit, even though the game seems pretty simplistic, it's actually a whole lot of fun. Once you have put enough time into it you realize that it's a little more complicated and deep than it seems at first. It's obvious after a while that a lot of thought went into this game. And it's about boats! What could be better?
The developer, Imangi Studios is pretty good about keeping the game up to date, adding new levels and increasing the depth of the gameplay. They definitely do a pretty good job of keeping the players interested with new patches. It can get pretty hard too and soon you'll be scrambling all over the place to keep the tiny container ships from crashing into each other. We also noticed that they added some changes in the latest release. Subtle things like the music, although the same fun and quirky song, sounds more detailed and sophisticated. Not so sure we like it more than the old one. It'll have to grow on us. Oh yeah, and there's a free version with limited levels. That way you can get hooked before spending the 99 cents if you are the type that needs to be convinced first. Oh, and interestingly enough, Imangi Studios also has a "free" HD version of the game for iPad called Harbor Master HD. It's meant to use the iPad's larger screen real estate as an advantage. It's free, but you need to buy extra levels at 99 cents each.
Pros: Fun game play that involves boats, well-designed, line games are a good idea on iPhones
Cons: It's a game. Can get pretty stressful towards the end when you have a screen full of boats ready to crash into each other.
Developer's Website: Imangistudios.com

---
Hipstamatic – We've been in love with Hipstamatic since the day a photographer friend recommended it to us. Essentially, Hipstamatic turns your iPhone or iPad into an old vintage camera. The effects this app adds to your photos are too good to try and describe in writing. It makes an otherwise digital looking image that you usually get from a phone camera into something warm and fuzzy. Absolutely incredible. Can you tell we love it?
We use it a lot too. Check out the square post image here – Yes, it's Hipstamatic. And check out this awesome boat steering wheel image. That first shot of the steering wheel in a Sabre 40 yacht was shot with an iPhone 3Gs running Hipstamatic. No question about it, the app is great. It also gives your phone the feel of a camera where you can flip it around and switch lenses, film types and flash types. The flash even makes that high-pitched tone old cameras do when you switch it on. You can also shoot in high resolution to get photos big enough to print and frame. The downside is, all this comes with a cost. While many iPhone and iPad apps you can buy for a buck or two, Hipstamatic is $1.99 to start off, for the basic camera and few standard lenses, films and flash models. In order to really tap into the capabilities of this app you'll be inclined to buy extra lenses, films and flashes that are sold in "Hipstapaks" for 99 cents. Before you know it, you're up at close to 10 bucks! The cool thing is, you can start off slow and add Hipstapaks over the course of a few weeks in order to take some of the sting away. The app is totally worth it and we absolutely love it. And… Keep an eye out because we will continue to use photos coming from Hisptamatic on FloatWays for future stories.
Pros: Excellent photo effects that look analog and natural, complete experience of a vintage camera, well-designed.
Cons: Can get a little pricey once you add all the Hipstapak add-ons.
Website: Hipstamatic.com

---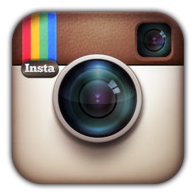 Instagram – Ah Instagram! This is one of our favorite photo applications. Why do we like it so much? Well, it takes the good things that all the other photo apps have and combines them into one. What we like most about it is the share feature where you can share your photos with friends and other boaters and sailors. Of course, the network is for everyone, but there are plenty of boaters and sailors on there. Instagram has a large social network that's very similar to Twitter, but is optimized for sharing photos. Maybe you are not the social network type, but trusts us, Instagram will turn you into one!
It's easy to look up like-minded people by searching for terms like sailing, boating, regatta or fishing. You can even search for objects like boat, sailboat, fish, etc. A search will yield all kinds of photos based around the topic. You can then connect with the people behind the photos by "following" them to see all their future photos as they share them. People can also connect to your photo feed the same way – by following you. Very much like Twitter. You may very well be thrilled to share photos of your antique sailboat restore project. Or maybe you'll do like us and share photos from a race as it's unfolding. People can "like" or comment on your photos as well as you on theirs.
And Instagram is not simply about photo sharing. The app has some great photo effects that add a legitimate "analog" look to any photo. You can even crop them and add cool borders. Another great thing about Instagram is that to apply the effects to a photo you don't necessarily have to use the Instagram camera. In fact, we've been using Instagram for a few weeks now and we haven't even used it's camera yet! We've mainly used the iPhone 4S built-in camera app and Hipstamic, reviewed above. You can even create more unique photos by importing Hipstamatic photos into Instagram and adding the Instagram filters to an already heavily processed image. You can import just about any photo into the application and run it through the effects filters before sharing. Of course, you shouldn't use other people's photos.
Pros: Very active social network for photo sharing and rating, excellent filter effects, very fun. It's FREE!
Cons: Bit of a time suck if you're not careful. It's THAT addictive.
Website: Instagram.com

---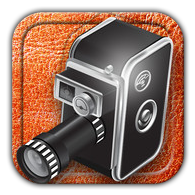 8mm Vintage Camera – This is one app that we started using only recently. We actually bought this one when we acquired our brand new iPhone 4S a week after it came out. We were looking for video alternatives along the same lines as Hipstamatic for photos (reviewed above). We can happily say we found what we were looking for in this app! To give you a better perspective, we also bought the similar Super 8 app to compare. While the Super 8 app is very similar in the overall video results, we liked the 8mm Vintage Camera app a little better. While less stylized, we found it to be more intuitive and easy to figure out without having to go through the manual 10 times. (We did have to go back to the "info" button a few times when we lost our way around.)
Overall, this app takes video using the onboard iPhone, iPod or iPad camera and turns it into a vintage-looking film movie clip. The effects are beautifully crafted and extremely convincing. What's more is you can access your current sailing videos in your device's camera roll and import them into the app. You can then apply the effects you want to those already shot videos and export them back into your camera roll. How cool it is that! This means you don't even have to shoot new video with the app to create great looking vintage movies. Oh, and with iOS 5 (or higher) in an iPhone 4/4S/iPod Touch 4 or higher, you can shoot video in 720p HD. This means you can put together high quality movies of your sailing weekend, waterski sessions or fishing trip and edit them into convincing high-quality vintage HD movies. The downside is you can't edit in the app itself like you can on Super 8. You would have to buy an app like Reel Director (by the same developer) or something like iMovie to edit the resulting 8mm Vintage Camera clips. Still, the app rocks and we highly recommend it. We'd give it a 5 Floats rating if it had a bundled video editor.
Pros: Excellent quality vintage video effects, 720p HD video capability with iOS 5 and up on select devices.
Cons: No video editing capabilities bundled within the app.
Website: 8mm.mobi

---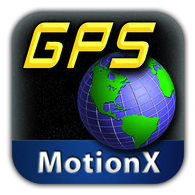 Motion X GPS – There are various marine specific iPhone apps on iTunes and they do have their place. Some of them are actually pretty good. But when it comes to an overall, do-it-all GPS application, we've found that the staple Motion X GPS is so hard to beat. Yes, even though it does have modes for all kinds of water activities like paddling, power boating, rowing and sailing it is not a typical marine app in it's looks and function. You don't really get the marine-looking charts and maps and all that nautical jargon. But, Motion X GPS has so much GPS functionality that it's a must have app. You can use it for finding your way to the lake or bay. You can use it to gather information about speed and direction in all kinds of crafts, be it a sailboat or a kayak.
The one thing that really makes Motion X GPS stand out over the rest of the GPS iPhone apps is it's level of detail. You really need to read the manual for this one. It has so many awesome features and detailed settings that make it THAT much more useful and customizable for your specific use. However, there is a problem. While simply selecting "Record Track" along with a mode will allow you to quickly gather movement information, if you don't take the time really how to use learn the app, you'll feel lost and most of the app will be useless to you. So, take a tip from us… If you are set on getting Motion X GPS, make sure you allot some time to reading the manual and learning how to use it properly. It's one of our favorite apps and one we consider to be top-notch. But you really need to know how to use it properly.
Pros: Highly customizable, detailed and powerful GPS app.
Cons: Can be complicated to learn.
Website: motionx.com/iphone/overview/

---
And this is not all folks! Stay in touch and bookmark FloatWays.com – There are 3 more apps that we are currently using and reviewing. We will be adding them to this page once we get to know 'em better.
You can also Follow Us on Twitter or Like Us on Facebook. From there you will hear all the news of upcoming releases, including the new app reviews. -FW